Zwellyn Pottery will be open and participating in the Maine Pottery Tour on Saturday April 30th from 10am – 5pm and Sunday May 1st from 10am – 4pm.
I will have pottery for sale as well as pottery demonstrations. Always wanted to try throwing on the wheel? You can this weekend.
I will be unloading a glaze firing on Saturday at 10am.
All are welcome and I hope to see you there!
I've been having SO much fun making pottery lately! I do pottery as a stress relief mainly and 2020 has been a pretty stressful year so I've been making more than usual and trying out some different designs. I'm excited and humbled at how well these new designs have been selling and I'm going to get in the studio next week to start producing some more.
Flowers:
I'll definitely be making some more flower designs. The Irises, Tulips, Lilies and Daffodils have been very popular and people have suggested Poppies and Sunflowers.
I'll be making mugs and travel mugs primarily and probably a few more vases.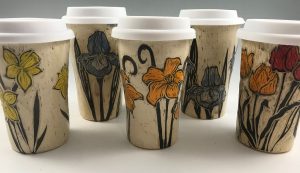 Cosmic Mermaids:
These have been really fun to make and I love that people are excited about them. I'll be producing a dozen or so for the next firing and will take the knowledge I gained from the last firing to make them better next time. I plan do do a lot more gold luster this time on their 3rd eyes and the jewelry I carve on them.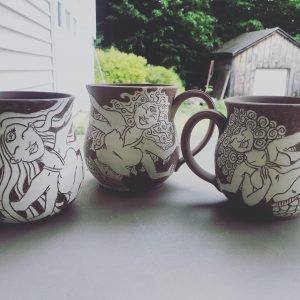 Astronauts & Other Space Themes:
My cosmic blue glaze was a big success and these designs are so relevant with all the Space-X launches. I plan to make 4 more astronaut mugs and try out some new space designs too. Thinking about how big the universe is and how insignificant I am in the scheme of things really helps me feel better in the wake of all this global change.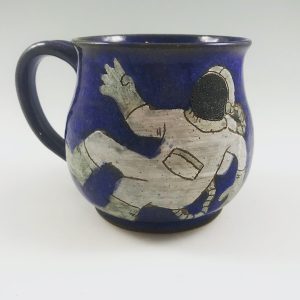 In a few short weeks everything has changed! Because of the COVID-19 pandemic, the CDC is recommending social distancing. All of my Spring Craft Fairs have been postponed or canceled.
I am still selling online though but my procedures have changed to protect my customers and family.
When I ship, I will wear gloves. I will also wash the pottery before packaging (which I don't normally do).
If you elect to do "local pickup", I'll package it before you come over and we'll meet outside.
I am still producing pottery because it's something I do for fun. Portland Pottery is closed but I have plenty of clay to recycle and I can get some supplies online.
I realize that pottery is a bit of a frivolous purchase, especially for those who can't work at the moment. For those of us who are still working though, we should try to keep things as normal as possible and support our small businesses when we can.
I'm really looking forward to the Holidays this year but they are definitely coming up fast. Between November 26th and December 4th, I'll be having a 20% off sale if you spend $100 or more. Use the coupon code CYBER2019 on my website or Etsy Store!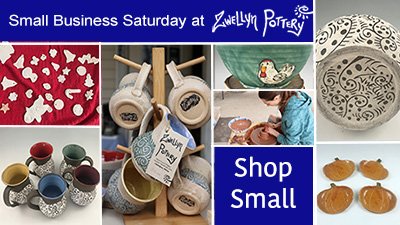 I'll also be having a sale at my studio for Small Business Saturday on Saturday November 30th from 10am – 4pm. You can come and shop if you are local, it is also the time to pick up your child's Christmas Ornaments if you came to the Ornament Making Workshop on October 5th. The 20% off applies to in-person sales too!
Sat Oct 5th 10am-5pm & Sun Oct 6th 10am-4pm
20 Spencer Lane Limington, Maine (same road as Chad's Auto)
The Maine Craft Weekend is an annual, community orientated and family-friendly event all about connecting communities with local artists and crafts-people. Zwellyn Pottery in Limington is excited to participate in 2019 with an open studio, craft fair, bake sale and holiday ornament making workshop. 100% of the proceeds from the bake sale will benefit the Limington Food Bank.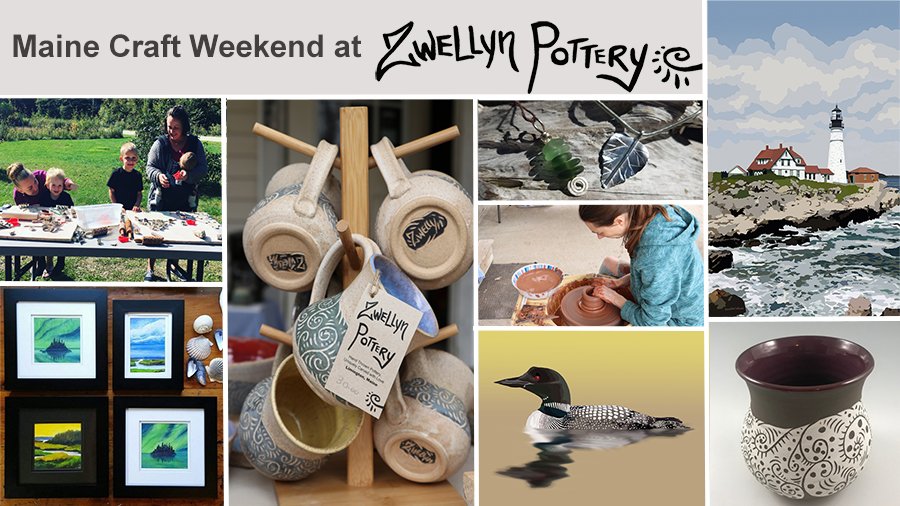 Craft Fair
Saturday October 5th 10am-5pm
Sunday October 6th 10am-4pm
Zwellyn Pottery – Saturday & Sunday
Milly makes handmade functional pottery including bowls, mugs, vases spoon rests and more. She specializes in sgraffito pottery which is where you apply a slip and carve a design through. There will be fall and Halloween pottery available.

Lehoux Art – Saturday Only

Danelle Lehoux is a digital artist. Her work is similar to traditional painting, she works in layers, starting with the background then moving forward, creating shapes that, when viewed together make up the entire finished piece.She will have graphic art prints, magnets, tote bags, notecards and more.
https://lehouxart.com

Allison Donohue – Saturday Only

Allison Donohue makes beautiful jewelry, watercolor and acrylic paintings that she will have for sale on Saturday.


Bake Sale
Saturday October 5th noon-4pm
Sunday October 6th noon-4pm
All Proceeds Benefit the Limington Food Bank
Kid's Holiday Ornament Making Workshop
Sunday October 6th noon-4pm
Kids can make up to 10 holiday ornaments. There is a suggested donation of $5 per child to help pay for supplies but is not necessary for family's that can't afford it. Pick up date will be the Saturday November 30th (Small Business Saturday) or you can elect to pay $5 extra to have the ornaments shipped.
Wheel Throwing Demonstrations
Saturday October 5th 2-4pm
Ever wanted to try the pottery wheel? Now you can! From 2pm-4pm on Saturday October 5th, you can see how to throw pottery and then try to make one yourself.
I'm excited for my 4th annual "Seconds Sale" on June 8th! This is where I'm able to offload pottery that either just hasn't sold in the past year or has some flaw that makes it unique. This tends to be one of my most attended sales because for most of us, pottery that has a flaw, can actually give it character and make it appealing. Also these are rock bottom prices so it's a good chance to get some of my work at a crazy discounted price.
The sale starts at 10am and goes to 2pm. Get here early to get the best deals.
For those of you who can't make it or live farther away, you can still be part of the sale! I'm diligently posting some of my seconds on my website tonight and tomorrow so there will be a good selection by Saturday.
You can find the sale items here!
Unique, Handmade Maine Gifts!
On my blog as well as promoting my pottery business, I like to showcase some of the great Maine stores that carry my pottery and help artists like myself make a living. One such lovely store is Found in Maine, located in Kennebunk!
Found specializes in selling handmade products by local Maine artists. They sell Maine made pottery, jewelry, handbags, accessories, and even organic baby cloths. It's the perfect place to go if you are looking for a unique and well crafted gift!
Owner Pamela Bennett got the idea to open Found after driving through Kennebunk's historic downtown shopping area. She had been thinking about starting her own business and loved the idea of supporting Maine artisans and giving shoppers an opportunity to purchase beautiful handmade objects and special gifts.
Found is a wonderful location and I personally love how Pamela curates the store! Anyone looking for a great Maine gift shop should make stopping by a priority.
One thing I love as an artist, is the fact that Pamela will often do wholesale instead of consignment. Not that consignment is bad, but it can often be difficult for artists to wait for the products to sell in the store to receive a payment. Especially during offseason times.
To find out more about Found, you can visit their website!
I love this time of year, mainly because I get to justify being in the studio more! People are starting to shop more and I can sell pretty much everything I make this time of year.
I have the Cornish Apple Festival coming up at the end of the month (September 29th at Thompson Park in Cornish) and although the weather feels like Summer during the day, the nights are chilly and people have been making requests for Fall pottery design, which I am working on!
In addition to Fall themed items, there has been a lot of interest in chicken mugs, so I will be working on larger batches of those!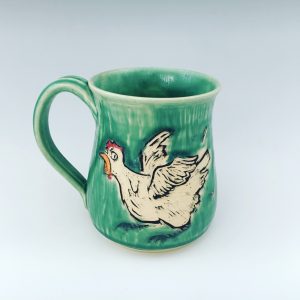 If you have any requests for designs for Christmas presents, now is the time to be in touch with me on those so I can get them done in plenty of time.
Just use my contact page to get in touch or message me on Facebook!
Sometimes you just need to start! This website is not perfect and I am painfully aware of that fact especially since my day job is in web development. I had agonized for months about the design (not really getting anywhere) but then I decided to just use a commercial theme and get it up because I can't sell pottery on my own website if it's in maintenance mode forever.
I've been a part time potter for a long time. As I mentioned my full time job is a web developer. Over the last few years I've been able to do pretty well selling pottery online with minimal effort thanks to my online skills. With all of my kids in school full time this fall, I'm FINALLY ready to start doing for myself, what I do for other businesses and promote Zwellyn Pottery.
My goal is to be able to bring in enough money that I can focus on Zwellyn Pottery 40% of my work time with the eventual goal of selling Zebralove Web Solutions to become a full time artist.
This is the very beginning of that journey and my secondary goal is to use this blog to document the process in the hope that it can help others with their own journey to promote their handmade businesses.
Brightly colored buttons for your craft projects!