I love this time of year, mainly because I get to justify being in the studio more! People are starting to shop more and I can sell pretty much everything I make this time of year.
I have the Cornish Apple Festival coming up at the end of the month (September 29th at Thompson Park in Cornish) and although the weather feels like Summer during the day, the nights are chilly and people have been making requests for Fall pottery design, which I am working on!
In addition to Fall themed items, there has been a lot of interest in chicken mugs, so I will be working on larger batches of those!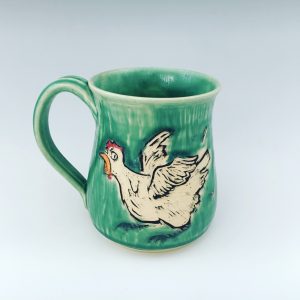 If you have any requests for designs for Christmas presents, now is the time to be in touch with me on those so I can get them done in plenty of time.
Just use my contact page to get in touch or message me on Facebook!