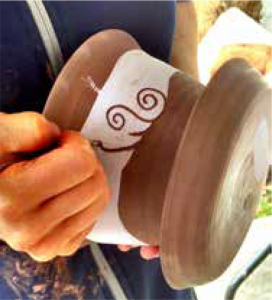 Sgraffito is the practice of applying a slip or underglaze to pottery and then carving through. The idea is to have contrasting colors so the design pops. Most of the pottery I make uses sgraffito as a decorative technique. I love the texture, I love the visual effect, I pretty much love everything about it.
Many of my designs are abstract. I've always been interested in aboriginal art, and I believe that comes across in much of my pottery. I'm also very interested in what universal energy looks like and when I am carving a piece, I don't plan it out, I just try to feel the energy and translate it onto the pot.
I will also do figurative pottery because that's also fun. I have been known to put chickens, mermaids, fish, etc on my pottery as well.
Lately I've been playing around with different shapes and colors.